Achieve Continuous Delivery
Embrace the Power of DevOps
Break Down Barriers, Build Better Software
VE3 offers seamless delivery with greater efficiency for development and operations through our comprehensive range of DevOps solutions. We complement agile software development with our modern and high-quality DevOps technology services. We help you kickstart your DevOps journey and empower you to optimise operations, workflows, and lifecycles, all while ensuring efficient technology delivery. Our team excels in automating the application development process, enabling businesses to streamline their operations and embrace the latest technological advancements . With our expertise in DevOps, you can rely on our consulting services to deliver effective and rapid implementation strategies. Our DevOps consulting empowers companies to iterate and increment development, enabling workload management and facilitating architects in implementing automated testing methods. Whether you require DevOps solutions, consulting, or services, we have the knowledge and experience to support your organisation in achieving seamless integration and improved efficiency throughout the development and operations lifecycle. 
CLOUD-POWERED DEVOPS FOR FASTER DELIVERY AND SCALABILITY
DevSecOps
Maintain velocity without compromising security
At VE3, we understand the criticality of integrating security into the software development lifecycle (SDLC) . That's why we offer comprehensive DevSecOps solutions that enable organisations to shift security left, facilitating the integration of security testing earlier in the SDLC. Our DevSecOps practices empower organisations to seamlessly embed application security at the earliest stages of development, avoiding the challenges posed by addressing vulnerability findings late in the process. By leveraging our expertise and advanced tools, we enable organisations to achieve seamless and cost-effective application security, ensuring that vulnerabilities are identified and addressed proactively rather than at a stage where mitigation becomes more difficult and costly. With VE3, you can embrace DevSecOps confidently, enabling a streamlined and secure software development lifecycle.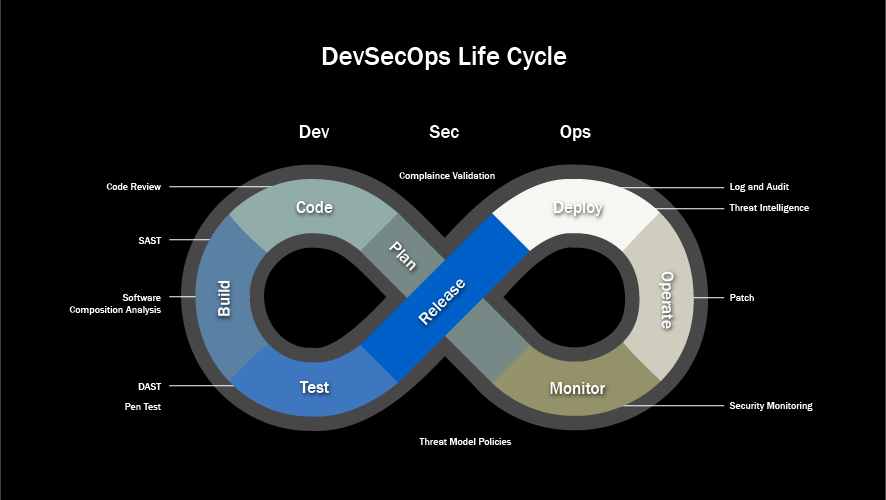 Streamline Your Development & Operations Journey with Specially Tailored Solutions for Your Unique Business Needs 
Tools used for DevOps SOlutions
VE3 is a pioneer in DevOps technology as we focus on improving your existing idea and accomplishing your business goals with our expert services. 
We comprehensively assess the current state of DevOps practices, tools, and processes within the organisation. This evaluation helps establish a baseline and identify areas for improvement. We collaborate with stakeholders to define goals and objectives for enhancing DevOps maturity. These goals should align with the organisation's overall business objectives and include metrics to measure success. 
We start with assessing the current state of capabilities in three ways:
DevOps Maturity Assessment of the current state of capabilities.

 

Identifying areas of improvement.

 

Outlining steps to achieve desired DevOps goals.

 
In line with these three steps, we then verify maturity in building, deploying, and testing stages across application, data, and infrastructure levels:
Leverage your capacities for faster Development and deployment
Our experts utilize CI/CD configuration management, microservices, and containerisation to enable continuous integration and deployment, facilitating faster delivery and accelerating time-to-market. 
VE3 helps you implement the best DevOps strategy for your business
VE3 as your DevOps Technology partner
We collaborate with you at every stage, helping develop and execute ideas using the latest DevOps technology. Our commitment persists beyond deployment as we offer regular upgrades and expert consultation to ensure ongoing progress and innovation. 
As a proud DevOps technology consulting, we adhere to industry standards and follow the principles of TDD, BDD and CI/CD.
We promise a strong commitment to delivering projects guaranteering your technological advantage over competitors. 
As an expert DevOps consultants, you can trust us to realise maximum business agility with better implementation and optimum resource utilisation. 
We implement the DevOps process with the latest technology and focus our efforts on streamlining release cycles for various applications from legacy to agile. 
Start your DevOps Journey with VE3
Our Client Trust Us with Our Experience and Perseverance
Our clients trust us for our extensive experience and unwavering commitment to delivering results. We assemble a team of world-class DevOps experts to ensure the success of your next project.